Unique Western Adventure in the Flat Tops
We provide all custom trips, we don't combine groups together to make large horseback rides with 15 to 20 guests. We'll take one rider on a trip or larger groups as booked. Our terrain allows for a different experience on each horseback riding trip we offer, you could ride here many times and never see the same landscape! We are surrounded by the White River National Forest and Flat Tops Wilderness, as well as BLM on all sides. Horseback Riding and Trail Rides Permitted by the US Forest Service and the Bureau of Land Management.
The 1 hour ride is perfect for beginners and the young cowboys and cowgirls! Ages 5 years old and up can go on this ride. The trail meanders through a beautiful mix of sagebrush, scrub oak, large open fields, cottonwood and aspen trees, ending at a spectacular overlook of the Sweetwater Canyon. Sweetwater Canyon is surrounded by high limestone cliffs that tower over the 72 acre Sweetwater Lake. The view over Sweetwater Lake is a perfect place for group photos before turning back for the ride home, which offers breathtaking views of the lake and the Sawatch Mountain range.
Price: $75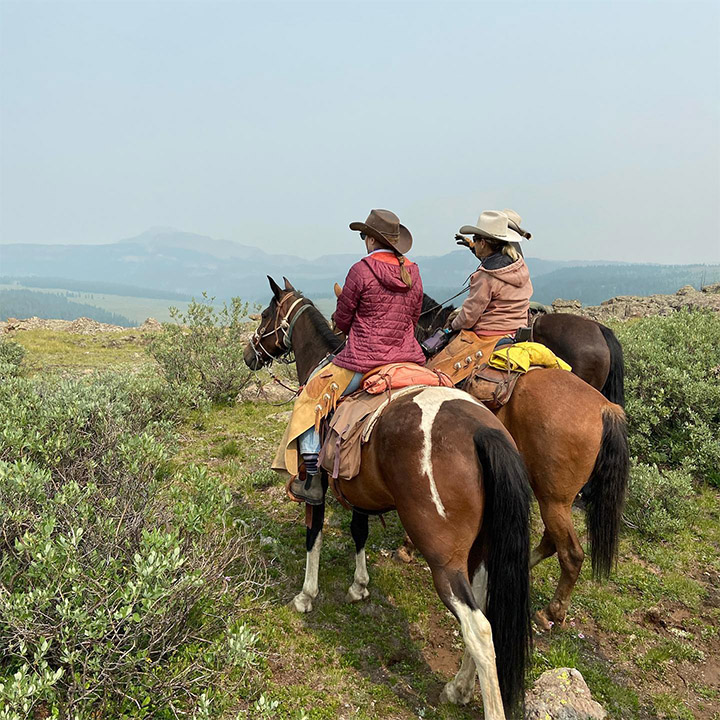 Climbs gradually up through the terrain of the Sweetwater valley, where early season wildflowers sprout proudly, pinion, juniper and scrub oak trees thrive and lichen covered limestone and volcanic lava rocks decorate the hillside. This ride includes beautiful views of
Sweetwater Lake and both directions of Sweetwater canyon. At its highest point the view of the Sweetwater Valley below seems to go on forever, with the Sawatch Mountain range in the distance. This trail was once used by the Ute Indians to travel from their higher elevation summer grounds to the lower elevation winter camps.
Price: $110
Add a High Country Gourmet Picnic ($30 per person) or
Cowboy Brown Bag Lunch ($15 per person) to any Day Ride
Ascend to higher grazing pastures with panoramic views of the New York mountains and Sawatch range. Descend through aspen groves, wildflower fields, and flowing springs while viewing the wildlife along the trail.
Price: $150
Journey into the high country of the Flat Tops Wilderness for spectacular views of mountains as far away as the Maroon Bells. Observe the wildlife in their natural habitat. Lunch included.
Optional destinations include: Hack Lake, Turret Meadows, Sweetwater Creek
Price: $250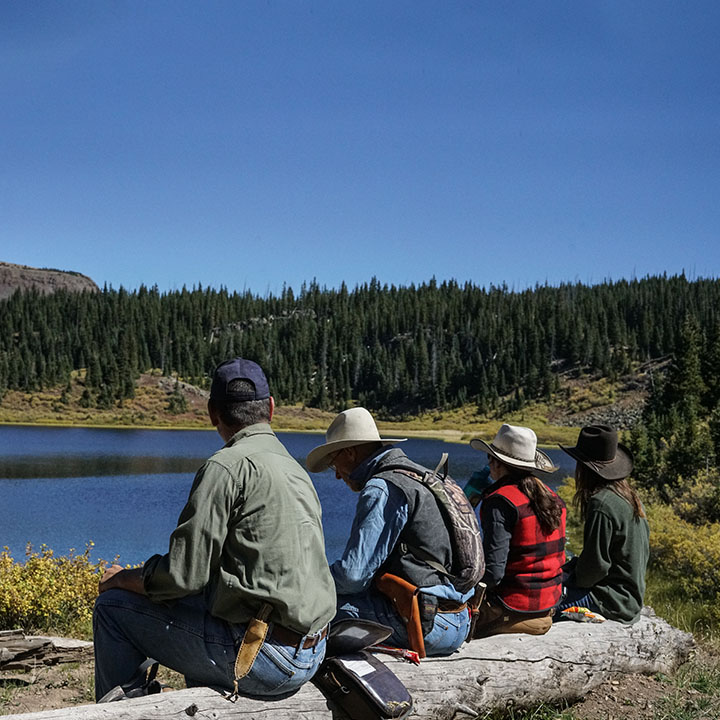 Horseback straight to either Hack Lake or Turret Meadows and spend the day catching brook trout.
You must bring your fishing license and all equipment must fit on a horse. We can provide some gear if needed.
Lunch included.
Price: $350
Ride to our summer base camp to enjoy an overnight adventure. Enjoy meals cooked on an open fire in a picturesque camp setting. Call our office to lasso your horse for this real western adventure! All food and gear provided.
Two days with one overnight
This trip includes a beautiful day ride into camp, with a lunch stop half way.  Camp is set at the picturesque Hack Lake.  Once you arrive at camp you can spend the afternoon fishing, hiking or just soaking up the scenery while enjoying some tasty hors d'oeuvres.  You'll enjoy a delicious steak dinner followed by a relaxing evening around the campfire.  In the morning you'll be served cowboy coffee and a warm breakfast before packing up to depart on your ride out to our base at Sweetwater Lake.
Price: Call for pricing
Three to five days into the Flat Tops Wilderness
These custom horseback adventures offer a few more days in the backcountry.  We do our best to customize the experience to each group's interests.  Our camp locations are going to stay the same, but we can customize the day rides from these locations to see more breathtaking views or to ride to other prime fishing locations.  The days will include cowboy coffee and a warm breakfast before departing horseback to the destination of choice, a sack lunch full of goodies to hold you over until you return to camp, and a hearty dinner followed by campfire time.
Price: Call for pricing
Available for cowboys and cowgirls still too short to reach their stirrups!
Pricing: $15 per ride plus a tip
Riders stay in the lush green Turret Creek valley, riding through aspen groves and large stands of pine trees arriving at a stunning mountain meadow for lunch. Turret Meadows has a beautiful meandering creek and is nestled in below a rim of cliffs that creates a breathtaking view for a picnic lunch.
Sweetwater - Cross Creek Loop
Climb gradually up through the Sweetwater canyon and cross over the headwaters that flow down the valley to feed Sweetwater Lake. Take in a spectacular view of the canyon and cliffs that make up this marvelous valley and continue home through the large pines and aspen groves that scatter the hillsides and large mountain meadows that are full of beautiful wildflowers in the early part of summer.
Climb up out of the Turret Creek valley to ride along a ridge with unbelievable views of neighboring mountain ranges, including the Sawatch range (Mt. Holy Cross) and the Elk Mountain range (which includes the picturesque Maroon Bells and Mt.Sopris). Enjoy all different types of terrain with this ride. Starts out in the lush Turret Creek drainage and then ascends to the ridgeline to ride along enormous aspen and pine groves. Pass through the beautiful high mountain meadow that contains spring fed Hack Lake. Return back on part of the Ute Trail where the view and the ever changing landscape of pinion, juniper and scrub oak trees, lichen covered limestone and volcanic lava rocks, leave you feeling like you've traveled to the old west.
Explore wildlife in the area
Local wildlife:
Deer
Elk
Moose
Bear
Mountain Lion
Bald Eagles & Golden Eagles
Osprey
Red-tail Hawks
Coyotes
Fox
Wildflowers galore
Local geology:
Volcano
Turret Peak
Devil's Causeway
My horse is
already lassoed
Our horses love getting attention before and after the ride…save time for our gentle giants on the day of your ride by filling out the liability waiver online.
If you already have a reservation for a trail ride or pack trip, you will find this useful: