Outdoor Activities for The Whole Family
Explore the Sweetwater Lake area, located only 30 minutes from Vail, Colorado. Bring your sup, kayak or rent a boat, go for a swim or explore the Ute Indian hiking trails.
Up to 2 hunters per guide
Hunt includes daily outings from headquarters, lodging, all meals and game pack out. To book a fully guided hunt, you must be in good physical condition and have the ability to hike and ride a horse in mountainous terrain. 
Bring your personal gear and food, ride horseback to your preset and fully equipped camp. Two side wall tents equipped with all the gear you need will be your residence for the extent of your hunt. Price includes packing harvested game.  Crew will check camp on scheduled days if there is no established way to communicate. We do recommend each camp having a Garmin InReach, or something similar, for emergency communication.
This service includes a wrangler and pack stock to pack out your harvested animal.  Prices will vary depending on the animal size and the distance to be traveled to pick up location.  The animal should be properly dressed out and at the very least, quartered ready to load.  If the wrangler has to assist in any of the dressing or quartering the price will be increased.  This service is intended to help the hunter get their game off the mountain and to our barn or other pre arranged pick up point.  Should you need extra assistance please arrange for that ahead of time so that the wrangler can be prepared.
Already have a hunting trip booked?
Activities at the Sweetwater Lake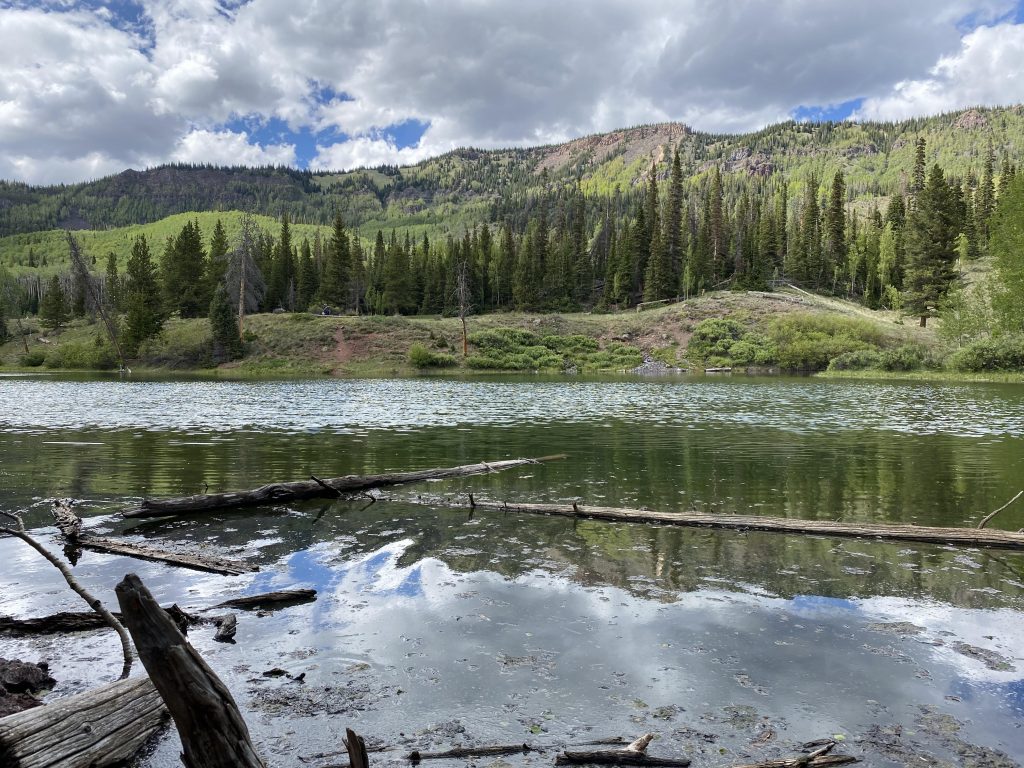 We offer full day horseback excursions that include a lunch and fishing opportunity in high mountain streams or lakes.  This is an opportunity to get out and see some breathtaking country as well as toss a line in the water and catch a few fish to tell stories about.  We provide the horses and wrangler to get you up the mountain to your fishing destination.  You will need to have a valid Colorado fishing license purchased ahead of time, your personal fishing gear and knowledge to get out there and really enjoy the day.
Price: Call for pricing
We offer row boats and canoes with safety gear provided and oars / paddles. No more than 4 people in a row boat and 2 people in a canoe. 
Pricing
$45/hour
$55/half day
$65/full day
Explore the Ute Indian trail, hike to Hack Lake or the Indian caves. Those who are more adventurous can hike to Rim Lake or W Mountain; Sweetwater Lake is a great starting point for those heading out to the Flat Tops Wilderness area. There is public parking available.